Powerport is AMD Dealer of the brands: CAT, John Deere, Kohler and Nanni. The maintenance of your (quality) engines is important for the performance and durability. That's why our mechanics have all the knowledge and maintenance instructions up to date. The mechanics can also be reached outside office hours, to fix malfunctions. They know better than anyone what requirements your engines should meet and work efficiently and effectively.
You can also conclude a maintenance contract with us. In consultation with you we will determine how we will maintain the engines. You regularly send us your operating hours. We will contact you for an appointment to carry out the maintenance.
We also offer maintenance contracts, whereby maintenance is carried out outside regular working hours. If you would like a maintenance contract, please contact us today.

Oil analysis
Based on an oil analysis, it is possible to determine whether wear parts are present in the oil. The oil is drained and sent to the laboratory. Here, the oil is extensively tested for different values: Copper, iron, lead, aluminium, tinner etc… In addition, the condition of the oil is also mapped out.
Endoscopy
PowerPort has the most modern endoscopes, which we use to view the engine internally. With an endoscopy, the motor is checked internally without having to dismantle it completely. During the endoscopy photos are taken. The photos are processed in a report. Endoscopy is a quick and inexpensive way to determine the condition of your engine
Engine read out
PowerPort has professional equipment to read out your engines. Your motor will be read out by a professional mechanic. When the engines have been read out, an extensive report will be sent to you.

Repairing marine diesel engines, generator sets and gearboxes is our passion. We do not care where or when, if possible on location or in our own workshop. The PowerPort mechanics are flexible and motivated and carry out all possible work on your engine.

We have all the facilities for the professional overhaul of your engine. After the overhaul your engine is overhauled according to factory specifications. This is an excellent alternative if you do not want to buy a new engine. We can always make an offer for you without any obligation.

PowerPort has extensive experience in the field of efficient and effective removal and/or installation of motors, gearboxes and generator sets.
We have modern facilities such as:
Workshop with all modern facilities
Test stand
Water pump test bench
Injector test bench
Gearbox test bench
Endoscope
Spray wall
Special measurement devices
Blast cabinet
Steam room
Cranes
100T Travelift
Longitudinal slopes used to remove vessels with lengths of up to 50 meters and weights up to 750 tons
Modern workshops for engine repair and metallurgy

With our loadbank we can perform a load resistance test for you. With this test we test the load of an electrical installation or a device for you and we check the functioning of the installation. On the basis of this information, we give advice in the field of preventive maintenance or repairs.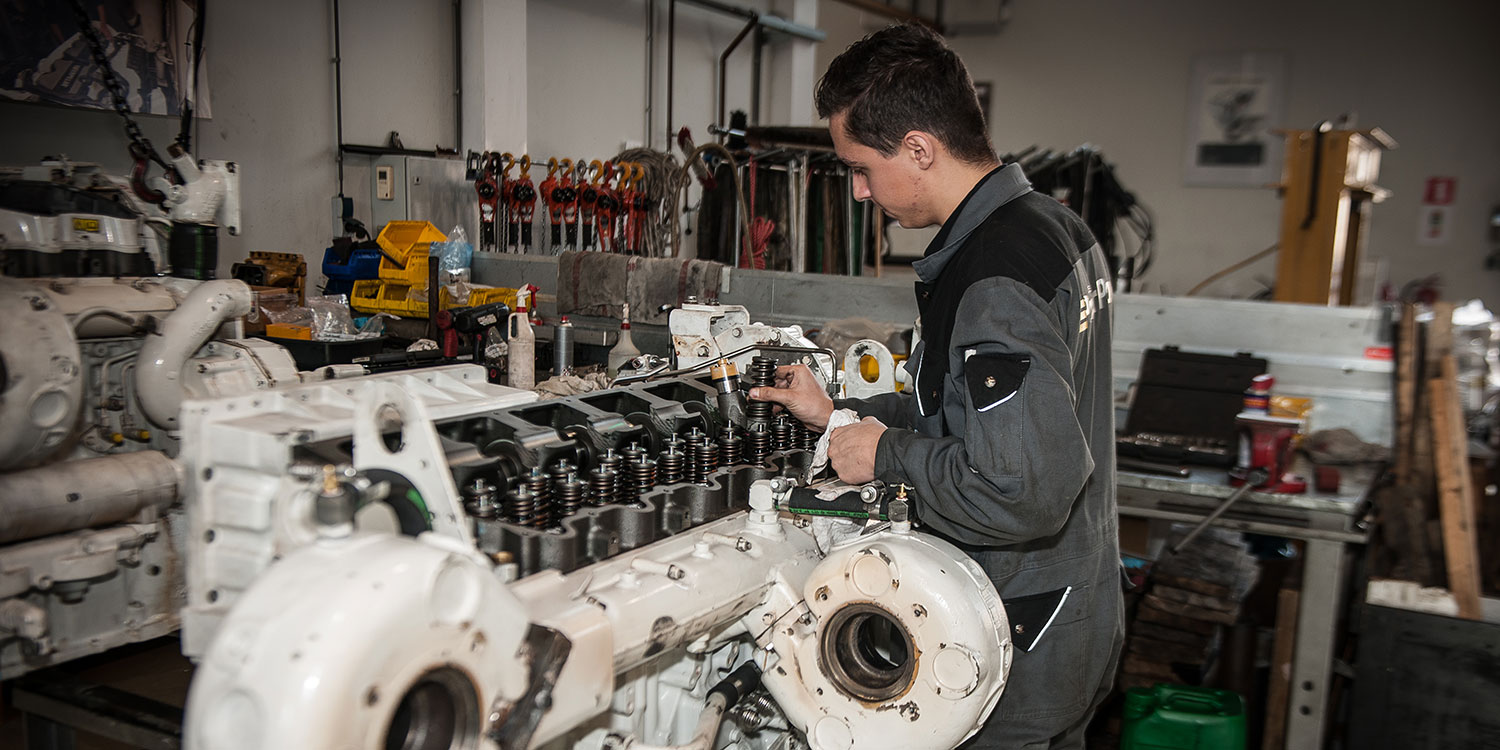 What services do we offer?
All facilities and possibilities for your vessel (up to a length of 50 meters) available at one location. We supply all products and services from our modern and professional shipyard in Maassluis. We combine the power of product knowledge, quality and experience under one roof, combined with the best quality engines, 24-hour availability for any breakdowns and a high level of service. This saves you time and money as a customer.
Who are we?
Through years of experience, PowerPort has developed into the specialist in marine diesel engines. We take care of the installation of complete engine installations, perform service and maintenance on diesel engines, generators and gearboxes and sell new and used marine diesel engines.