The power of all products and services at one location; that is what PowerPort in collaboration with shipyard De Haas Maassluis offers you. Short lines save you time and money. The companies have all the facilities, knowledge and skills for the maintenance of your vessel at one location.
The motor shop, large stock of articles in our own warehouse, cranes, a 100 ton Travelift and longitudinal ramps for vessels up to 50 meters in length and 750 tons. We are also AMD Dealer of the brands: CAT, John Deere, Kohler and Nanni. Our one-stop-shopping concept is a unique combination of the innovative character of De Haas PowerPort and the long-standing tradition of De Haas Maassluis. Together, the companies can realise all your wishes and needs regarding your vessel.
The conclusion is that the collaboration between PowerPort and De Haas Maassluis offers you various advantages. In short:
You make one stop (saves time)

All facilities available at one location

You have one point of contact

In case of a malfunction, you would like to be helped quickly. PowerPort understands this like no other. That's why our breakdown service is available to you day and night, seven days a week. One phone call to our emergency number and you'll have an expert on the line to make sure you're helped as quickly as possible.
You can reach us between 08.00 and 17.00 on our general number: (010) 590 39 39.

PowerPort has a large stock of spare parts for various types of marine diesel engines. This allows us to deliver immediately and you will have the products available on your vessel within a few days. If we do not have the product in stock, we, as a dealer, will have the product, in 99% of the cases, in house the next day. The brands from which we sell products are: Caterpillar, John Deere, Kohler, Nanni, Fleetguard, Donaldson, HENGST, MANN filters and this is just a selection of the brands we have in our warehouse.
Products we deliver from stock:
Turbo's
Alternators
Injectors
Filter elements
Oil filters
Fuel filters
Crankcase fume filter
Gaskets
Waterpumps
Coolers
Would you like to place an order or make a quotation?
Mail to info@powerport.nl.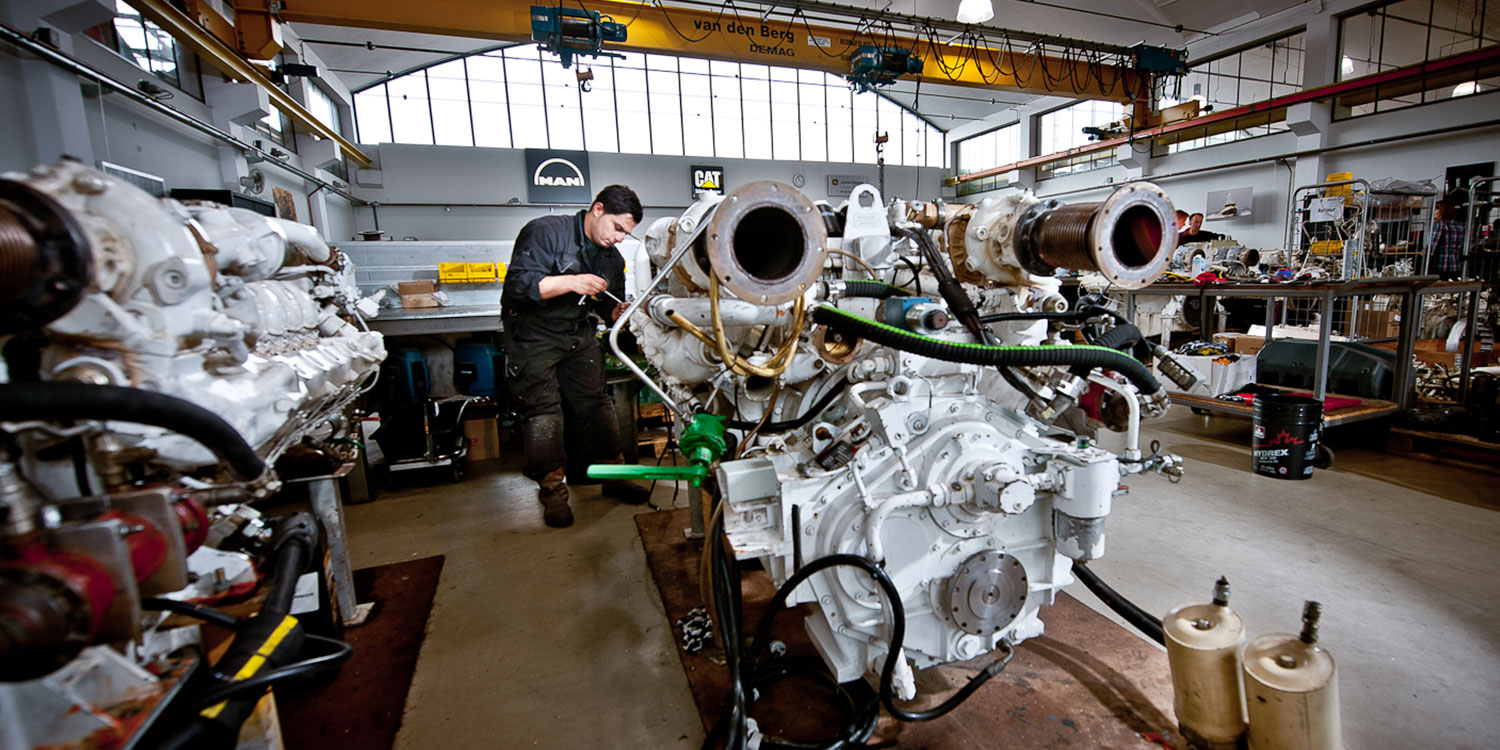 What services do we offer you?
You can contact PowerPort for various services. We can help you with the maintenance of your engines. The maintenance of your (quality) engines is very important for the performance and durability. We also offer engine inspections including oil analysis, endoscopy and reading out engines. We can also help you with repairing, overhauling and removing and installing your engine!
Who are we?
Through years of experience, PowerPort has developed into the specialist in marine diesel engines. We take care of the installation of complete engine installations, perform service and maintenance on diesel engines, generators and gearboxes and sell new and used marine diesel engines.